We were very successful in achieving our goal. We learn from failure and finally, we have created a polymer that is sand proof, AstroTurf proof, and also waterproof. There are a lot of difficulties when we are making the polymer. For each of the polymer we made, we test it to see if it turns out to be what we want. We were not satisfied with the first few prototypes we made, so we keep creating new prototypes and testing them. We figure out that different material and the amount that was added in really did effect on the polymer. We learn from failure and at the end, we figure out the perfect polymer.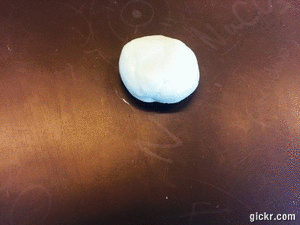 As you can see from the gif above our polymer is stretchy and mouldable.
We have 3 prototypes at the beginning, but they didn't work, it is either too sticky or not stretchy. At the end we made 5 prototypes, the fifth one worked. We tested it in the long jump area and see if sand will go in. We also put in underwater, the polymer can hold water, and the polymer in water become more stretchy and easier to use. It was a great success.
We presented our polymer to the dream on team,I learn that making a product isn't easy. Engineering is really hard.You have to have a good idea  and design the  product. And Also sometimes your polymer won't work on the presentation day. So we need to be more prepared.